SARS-CoV-2 Genome Assembly and Annotation Service¶
The SARS-CoV-2 Genome Assembly and Annotation Service provides a streamlined "meta- service" that accepts raw reads and performs genome assembly, annotation, and variation analysis.
A genome assembly is the sequence produced after chromosomes from the organism have been fragmented, those fragments have been sequenced, and the resulting sequences have been put back together. This is currently needed as DNA sequencing technology cannot read whole genomes in one go, but rather can read small pieces of between 20 and 30,000 bases, depending on the technology used. Typically, the short fragments, called reads, result from shotgun (random) sequencing of genomic DNA. In some cases, microbes such as certain virus species with RNA genomes may first have to be reverse transcribed into DNA before they can be sequenced.
The protocol used for assembly and the downstream quality measures is provided by the Centers for Disease Control (CDC). This protocol was developed, tuned and validated by the Viral Discovery laboratory at CDC/NCIRD, where it was used to generate the first 16 SARS- CoV-2 genome sequences from the United States. In practice, it has been used for situations with a relatively low or predictable volume of samples and is often used in conjunction with Sanger-based tiling to resolve any potential sequencing or assembly issues. This is a reference-based assembly, which uses the genome Severe acute respiratory syndrome coronavirus 2 (Taxonomy ID: 2697049, refseq ID: NC_045512.2, Severe acute respiratory syndrome coronavirus 2 isolate Wuhan-Hu-1). Additional information and the code can be found here: https://github.com/CDCgov/SARS-CoV-2_Sequencing.
A summary diagram of the workflow based on the sequencing platform can be found below.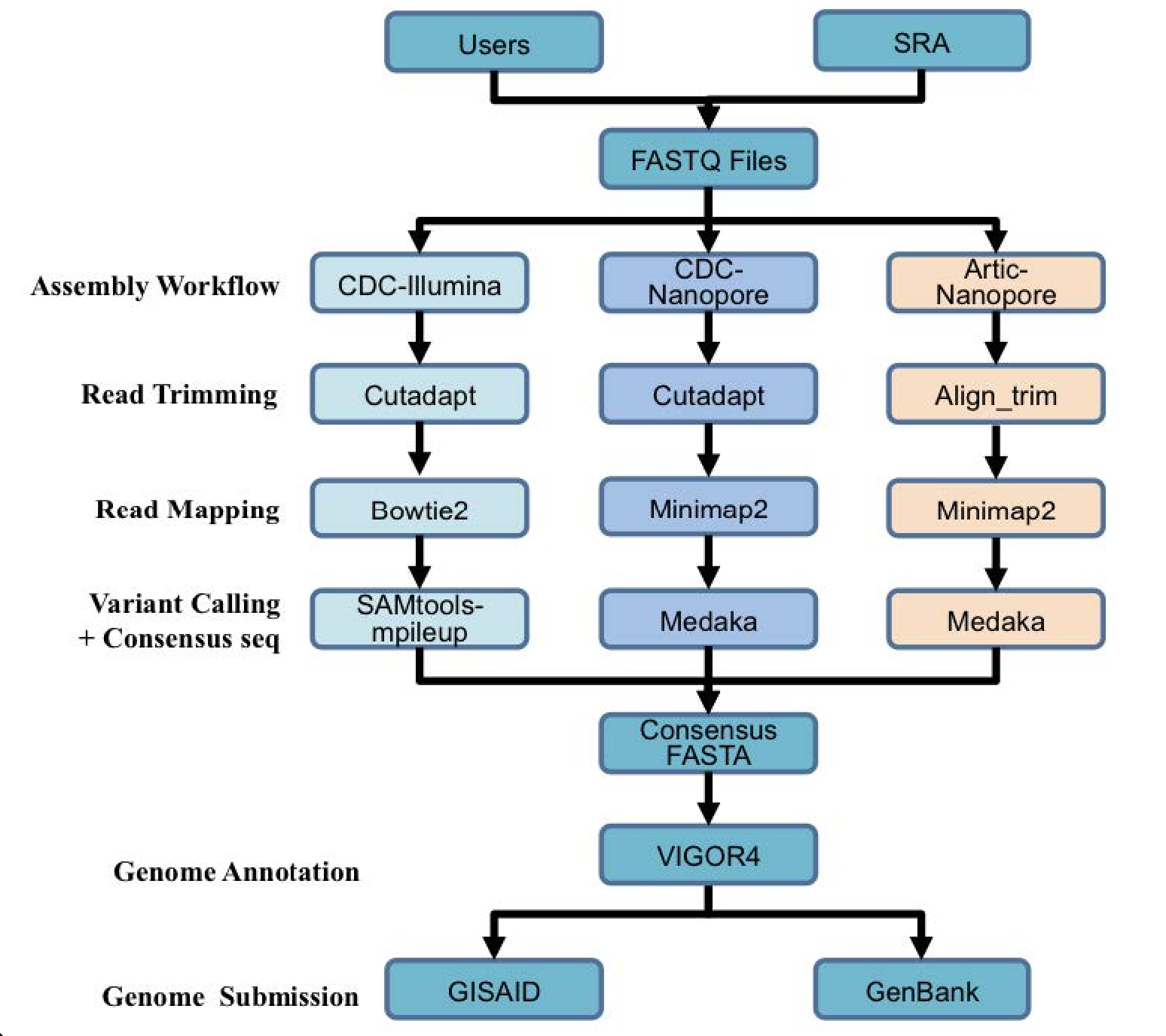 Genome annotation uses the Viral Genome ORF Reader pipeline (VIGOR4), which was developed at the J. Craig Venter Institute. VIGOR 4 predicts protein sequences encoded in a viral genome by sequence similarity searching against curated viral protein databases. The code for VIGOR4 can be found at https://github.com/VirusBRC/VIGOR4. A schematic of the VIGOR4 program workflow can be found below.