Upcoming BV-BRC Online Webinars: RSV and Influenza: Nov 29 and Dec 13, 2022¶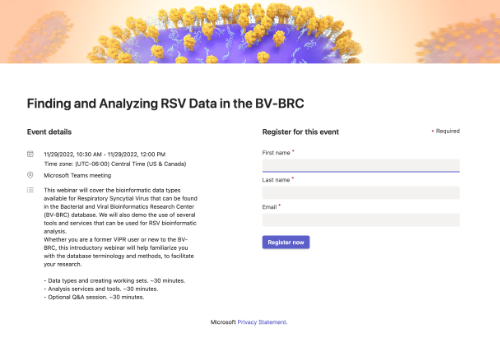 The BV-BRC (Bacterial and Viral Bioinformatics Resource Center) team will be offering 2 Bioinformatics Webinars on November 29 and December 13, 2022. These webinars will cover the bioinformatic data types available for Respiratory Syncytial Virus and Influenza Virus that can be found in the Bacterial and Viral Bioinformatics Research Center (BV-BRC) database. We will also demo the use of several tools and services that can be used for RSV bioinformatic analysis.
Whether you are a former ViPR or IRD user, or new to the BV-BRC, these introductory webinars will help familiarize you with the database terminology and methods, facilitating your research on RSV and Influenza.
Data types and creating working sets. ~30 minutes.

Analysis services and tools. ~30 minutes.

Optional Q&A session. ~30 minutes.
Registration is free and open to all.
November 29, 2022 (8:30 AM - 10:00 AM (UTC-08:00) Pacific Time)
Finding and Analyzing RSV Data in the BV-BRC
December 13, 2022 (8:30 AM - 10:00 AM (UTC-08:00) Pacific Time)
Finding and Analyzing Influenza Data in the BV-BRC